"Twilight" Film Artist Gregory King

Tri-Solo Painting Exhibitions

Three Galleries, Three Glorious Nights in October

In celebration of awe-inspiring art, three galleries will host separate opening receptions of the works by Gregory King, a filmmaker and multimedia artist based out of Los Angeles.

King was invited in 2010 by the set decorator for the wildly popular film saga Twilight to have his visual art featured as set decor in "Breaking Dawn" (parts 1 and 2). Several art works were selected and hung in the 'Cullen House' set, and are visible as backdrop in many scenes. Tah Gallery's curator, Sandy Taylor, has selected these, among other paintings by King, to be on display in each gallery. "Residing within the mind of Gregory King is a lofty inner vision of deep hidden illuminating dimensions. A world which is both inexplicable and unknown, yet inviting, majestic, and evocative. These sacred landscapes evoke a quest for a fresh interpretation of an altered reality as seen in these canvases, and may just reveal a vital metaphysical essence. Are the images earthly? Are they celestial energy fields? The works are luminous, yet dark, as if on the edge of the event horizon, then time begins anew." Tah Gallery Curator, Sandy Taylor

About the Artist (see below)

Gregory King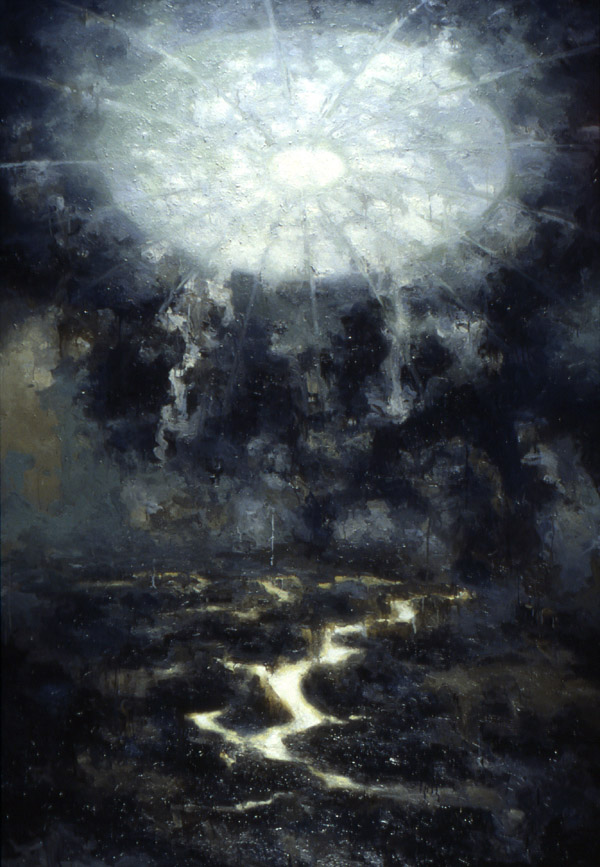 Gregory King - "Source" at Blackstone Gallery
Oil on Canvas, 90" x 65"
Price: $8,000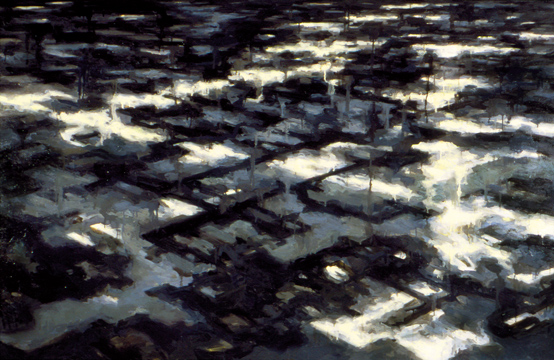 Gregory King - "In Earth" at Tah Gallery
Oil on Canvas, 60 x 84"
Price: $12,000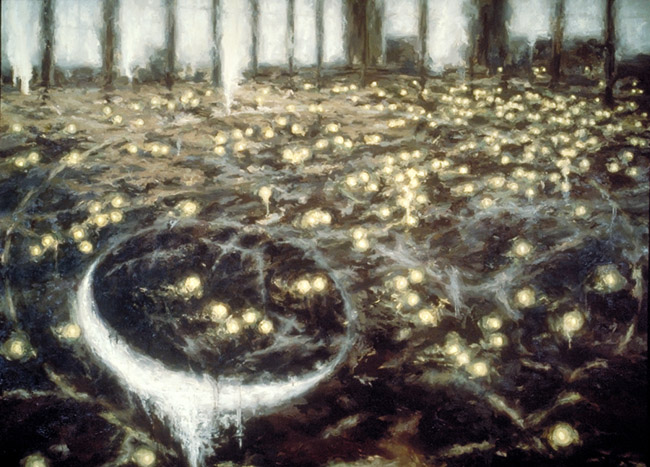 Gregory King - "Constellation" at Aahoo Gallery
Oil on Canvas, 72 x 96"
Price: $10,000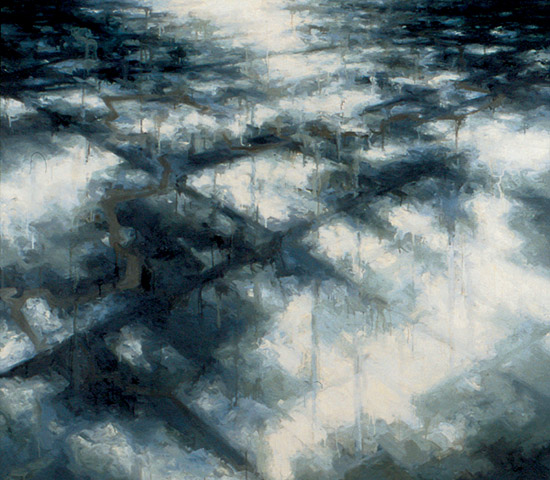 Gregory King - "Intersection" at Blackstone Gallery
Oil on Canvas, 78 x 68"
Price: $5,000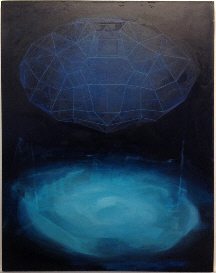 Gregory King - "Transference" at Tah Gallery
Oil on Canvas, 40 x 30"
Price: $4,000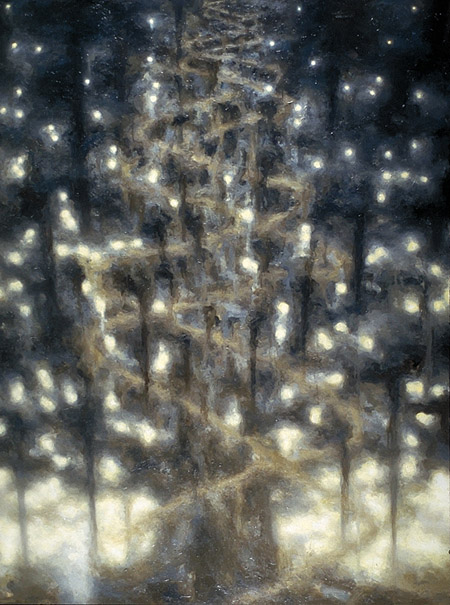 Gregory King - "Chronology II" at Aahoo Gallery
Oil on Canvas, 90x 72 "
Price: $7,000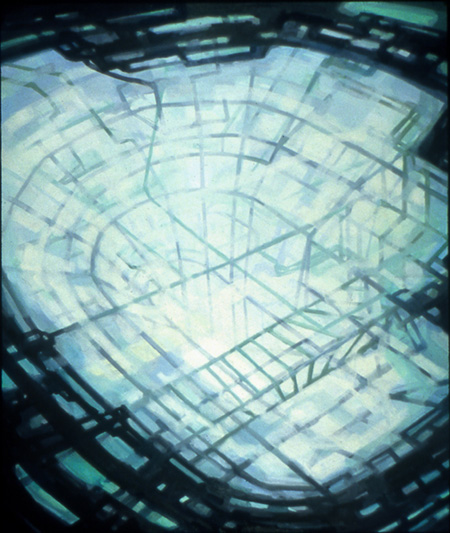 Gregory King - "Basilicon" at Blackstone Gallery
Oil on Canvas, 50 x 40"
Price: $2,500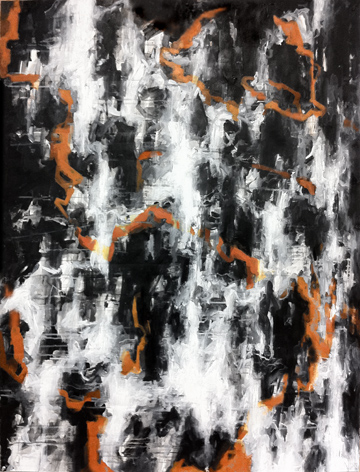 Gregory King - "Emanations (Twilight)" at Tah Gallery
Oil on Canvas, 50 x 38"
Price: $7,000
Gregory King - "In Memoriam" at Aahoo Gallery
Oil on Canvas, 65x 96"
Price: $6,000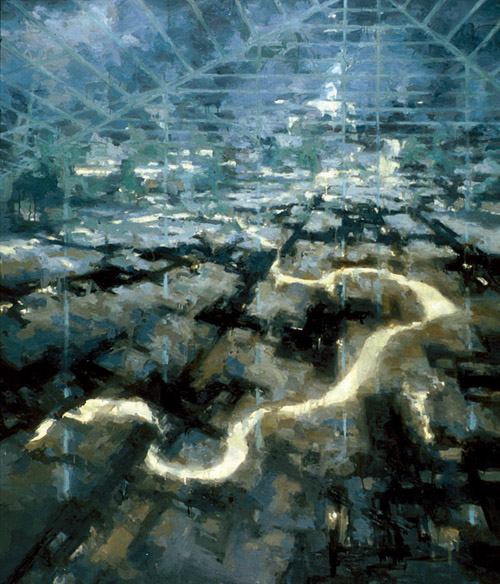 Gregory King - "Intermediary" at Blackstone Gallery
Oil on Canvas, 78 x 65"
Price: $6,000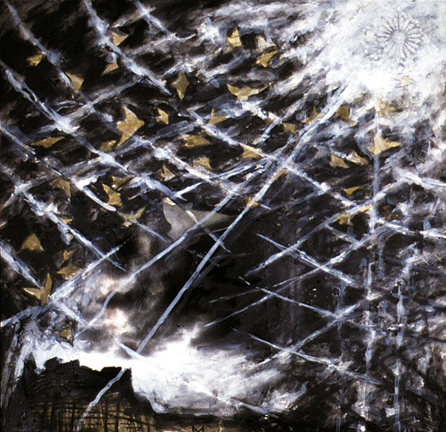 Gregory King - "Goreckis 3rd (Twilight)" at Tah Gallery

Mixed Media on Paper, 30 x 30"

Price: $4,000

About the artist

Born and raised in Louisville, Kentucky, King has wide-ranging experience in a number of artistic disciplines: painting, film and music. He received his BFA at the Kansas City Art Institute, and ran a small offset-printing business while living in Chicago, making artist books, poetry collections, and CD booklets for indie rock bands. During his years in Chicago he also led several large-scale outdoor mural projects with disadvantaged youth for a number of Christian and non-profit institutions.

King received grants for painting from Arts Midwest (an NEA Regional Fellowship), the Elizabeth Greenshields Foundation, and the Mustard Seed Foundation in the form of a Harvey Fellowship. He holds an MFA from Hunter College in painting, and while there he received a scholarship to attend the Glasgow School of Art in Scotland.

As a visual artist, King has exhibited widely in a diversity of venues across the country and abroad, such as the Corcoran Gallery in Washington DC, the Foreman Art Gallery in Sherbrooke, Quebec, the Organization of Independent Artists in New York, and the Butcher Shop Gallery in Chicago.

From 1995 to 2007, King was a member of the music group Rachel's, and projected original Super-8 films to accompany their live performances. He looks at this body of work of "cutting film to music" as the basis for his sensibilities as an editor and general approach to film and cinematic media. He toured extensively with Rachel's throughout America and Europe, with special appearances at the Merkin Concert Hall in New York (WNYC's New Sounds Live Series 2006), the Wexner Center for the Arts, Columbus, Ohio (2000-05), On the Boards, Seattle (2003), and the 2002 All Tomorrow's Parties Music Festival in southern England. The group opened for PJ Harvey on her 2008 "Is this Desire" tour across the United States.

King has also worn the hat of a film and video projection designer for live theater in New York, working with acclaimed director Anne Bogart and the SITI Company ("Hotel Cassiopeia" and "Systems/Layers") and artistic director Lear deBessonet from Stillpoint Productions ("Bone Portraits" and "The Eliots"), among others.

He directed, shot and edited the experimental film cycle "Rotating Mirror' , which received grant support from Angels Net Foundation and the Jerome Foundation. His dance film 'chloes' (co-created with choreographer Lea Fulton) premiered at the 2010 Dance on Camera Film Festival at Lincoln Center, NYC, and his recent documentary Our House (co-created with David Teague) received its World Premiere at the prestigious 2010 Hot Docs Film Festival in Toronto. Our House has won top awards for a documentary at film festivals, has broadcast deals in the USA and Poland (DOC Channel and Canal + Poland, respectively), and is available on DVD.

We invite you to meet this very accomplished artist and view his spectacular visual imagery. 

The exhibitions will run through October 31, 2013.

Artist's Statement

At the core of my work is the desire to engage perception, to visually interpret both the fundamental material and spiritual dimensions of the world, to navigate the possibilities of how these are distinct and yet intertwined, and to recognize art as a potent means through which to experience and connect the two.

I'm consistently compelled to visually excavate or poetically transform the infinitely complex interactions between humanity and the environment. This is intriguing for me in terms of the "constructed" and the "unintentional," such as how architecture, the urban grid, and the systematic or indiscriminate "marks" made by society interact with and compose transitory landscapes and physically profound spaces. It is not a matter of factually reiterating what already physically exists, but how these forms and networks allow for a visual dimension that engages the imagination in time, embodying the terrain of the mind within the broader environments that surround us, be they psychical, spiritual, social, technological or natural. A principle direction my recent work has taken involves a dialogue between the plastic (painting, drawing, etc.) and cinematic arts (e.g. celluloid film, digital video), in terms of how their respective static or time-dependent contexts can be interchanged for unique perceptual experiences. The idea that an "inner life" exists in a painting or film is explored, such as treating the visual structure of a painting as something that can be reconfigured into a film or video, or looking at the series of frames that comprise a strip of celluloid film as a visually compelling object on its own right. In the painting "Diegesis," for example, I had wanted to make a work that treats the windows of skyscrapers at night as a vast cinematic structure, where every individual story (or "window" as it were) contributes to a larger, unintentional but fascinating whole. During the process of creating it, however, I realized that the unfolding image could be literalized as a filmic experience. I therefore videotaped each individual "frame" in the painting sequentially, and created a short film with them where, in essence, the painting is "played" beside itself. This mirrored expression of a work in an entirely new context became for me an analogy of the duality between body and spirit. Each manifestation of the visual "information" at hand is a distinct experience on its own right, but together they share an indelible and mysterious connection that effects your perceptions of both. Once I made the film of the painting, I saw the painting in new ways, and vice versa. The subjects I gravitate to largely derive from the tacit understanding that we are, essentially, "surrounded" by phenomena that go unnoticed, but which, when combined or abstracted in any number of ways, have the potential to profoundly effect our sensibilities and relationship with their sources. In the installation "Diptych; Dialectic," for example, the shadow of a train and its power connector is the subject of a film that was shot as two separate "scenes", which are later projected side-by-side as film loops with individual projectors. When combined as a diptych, the two films create a mysterious and painterly third form through their juxtaposition. This new form is something of a visual "chord", dependent on the interplay between a technological artifact and a natural environment, where the shadow shifts and reacts to the shape of the landscape in a slow-motion, meditative dance. As such, it underlines my interests in exploring our definition of "landscape" as an artistic and cultural category, in terms of how the human mind and imagination determines and is effected by the space(s) it inhabits. Certainly the internet and our continuing fascination with "cyberspace" comes into play here, since these terms have provided a peculiar aura of respect for the intangible in our lives, which could effect how we discuss and relate to the "spiritual" as something even further removed from whatever we may devise. One result of these ideas in my work is exploring the notion of the "landscape behind the landscape," where multi-dimensional spaces merge and interact on a purposefully human-scale, technologically lo-fi context: pencil on paper, with no extraneous tools or computer aid save a straight edge. The forms in these landscapes are not meant to elicit clear one-to-one analogies to "real" landscape elements, but to function as a sort-of visual counterpoint for how one might perceive the forces at play around us. In the end, I'm attempting to use the complexities of the modern world against their propensity for disjunction and spiritual distraction. It is my hope that my work leads towards visual and temporal experiences that take the viewer away from the depleting aspects of the mundane, while also resituating them firmly in a world to be celebrated for its immeasurable and mysterious beauty.